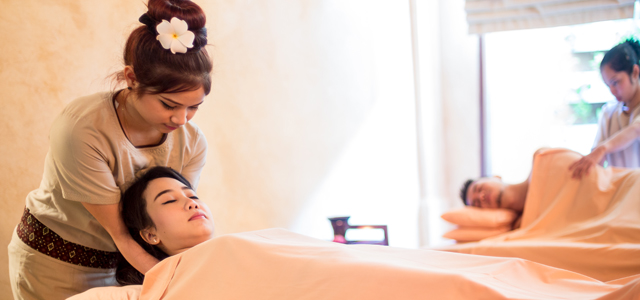 BODY THERAPIES
"Give your worries wings and let them fly away."

All our body treatments commence with our 30 minute "Signature Purification Ritual"
developed to improve blood circulation and prepare you for your treatment.

Deep Tissue Massage
90 minutes session (60 minutes treatment time)
120 minutes session (90 minutes treatment time)

A massage technique that focuses on the deeper layers of muscle tissues and releases the chronic muscle tension through Tui Na strokes, focusing on more specific areas. This is recommended fo5r those who experience consistent pain or those who have exercised strenuously. You may experience some soreness during or right after the massage. However, you should feel better than ever within a day or two! Because many toxins are released during the treatment, it is important to drink plenty of water to help eliminate these toxins from the body.



Back, Shoulder, Neck Massage with Ginger Zinger
90 minutes session (60 minutes treatment time)

Tension is released from your shoulders, neck, lower back and spine areas as smooth, long strokes and thumb and palm pressure are used in this massage. This intensive treatment is complete with a warm ginger warp. You will feel a slight burning sensation on your back as your blood circulation increases. Now you will be walking with a renewed energy ready to take on the world!



Sun-Burn Relief Treatment
70 minutes session (60 minutes treatment time)

This is specially designed for all sun-lovers! A soft and gentle massage combined with the healing properties of Lavender oil. A perfect remedy to soothe the sun exposed skin.