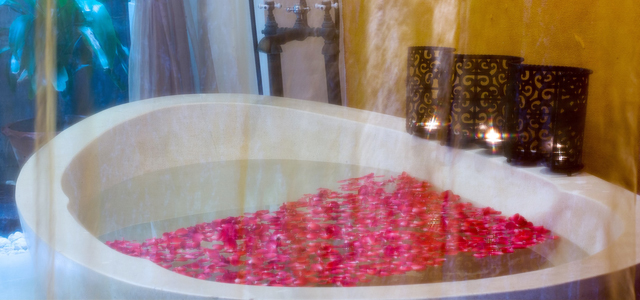 SPA SUITE PACKAGES
"life without love is like a tree without blossoms or fruit" khalil gibran

Your private sanctuary awaits you in our spa suites. All our spa suite packages begins
with our 30-minute signature Buarasari suite purification ritual.

Madrigal Love Package
180 minutes session

Choose from our fine body exfoliants a scrub to cleanse your pores and prepare you for a Relaxing Burasari Signature massage with heated neck and back pads leaving your muscles eased.

Revitalize your skin with an enriching body mask , whilst your face benefits from a Tui Na pressure point facial with jade . Cleopatra's bath awaits you !

Luxuriate and feel decadent whilst sipping a glass of bubbly

"The quality of mercy is not strain'd it droppeth as the gentle rain from heaven " Merchant of Venice .



Gone Topo
180 minutes session

The two basic items necessary to sustain life are sunshine and coconut milk" Dustin Hoffman

For those who love the smell of tropical islands and coconut trees, this treatment will satiate your desires. Commence this tropical journey with a coconut scrub, followed by your choice of massage, with our special blend of coconut oil and coconut cream. Time for a sip of coconut water whilst having your head massage with our signature coconut hair cream that leaves your hair soft and silky, you will be amazed with the results!