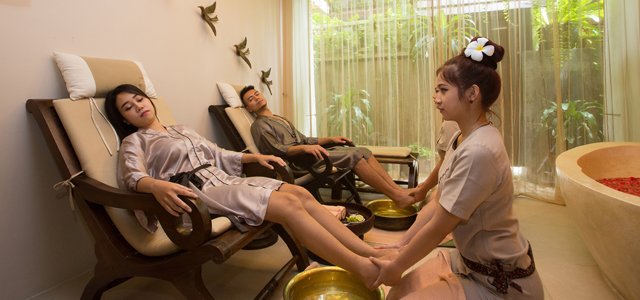 THE BURASARI PURIFICATION RITUAL
Please allow 30 minutes.
This ritual draws from the traditional use of hot water, steam, singing bowl and rest, for cleansing and restoration of your whole being. Complimentary to all spa guests with all our spa packages and wet treatment reservation. The Burasari Purification Ritual is best experienced in two parts, prior to body treatment and after the treatment.
PRE-TREATMENT
POST-TREATMENT
INITIATE
Commence with a foot bath soaked in a mixture of hot water with mint, Tree, Citratus leaf powder, Salt scrub and fresh Kaffir lime. Our foot ritual is developed to improve blood circulation and prepare you for your treatment.
REST
Take a few moments to restore the mind as you rest after your treatment, taking in all the benefits to your body, mind and spirit.

PURIFY
Step into the steam room and inhale our special blend of Thai herbs. This opens up the pores and encourages detoxification by lifting the impurities from your body. Be healthy and refreshed with limewater served.
REPLENISH
Re-hydrate with local elixirs and tea. This step helps your body to replenish, while supporting moisture and hydration.
HARMONIZE (Singing bowl)
Then commence into the relaxation of mind an excellent prelude to massage treatment. From the ancient healing traditions of Tibet, comes a therapy that gently effects and stimulates the water content of your body by harmonizing with the cells through sound, utilizing especially perfectly crafted hand beaten metal bowls. This leaves you in a deep relaxed mode.


Enjoy and Renew !