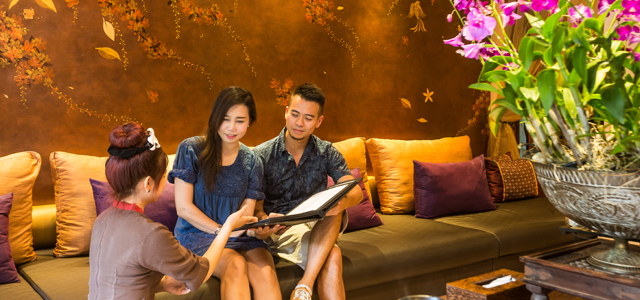 ALTERNATIVE HEALING THERAPIES
Applying Yin and Yang as two opposing states, Chinese medicine defines healthy as the equilibrium between the two. Utlizing the concept of "vital energy" or Qi which flows throughout the body on invisible pathways called meridians. These alternative healing therapies are both transformative and healing.
All "Alternative Healing Therapies" treatments begin with a 10-minute traditional "Foot Cleansing and Massage" ritual. Hot water is used to increase blood circulation which aids in muscle relaxation.


Traditional Thai Massage
60 minutes session (50 minutes treatment time)
90 minutes session (80 minutes treatment time)

A blend of assisted stretching and acupressure compressions along the body's energy pathways leaves you remarkably relaxed yet energized. You will be placed in the able hands of our Thai therapists who have been immersed in this traditional method of healing for centuries.


Thai Herbal Compress Massage
90 minutes session (80 minutes treatment time)

A blend of Thailand's finest therapeutic herbs and spices are steamed and massaged into the body to release tension, delivering deep muscle relaxation and ensuring long lasting fatigue relief. This, combined with the Thai stretching massage technique, is sure to stimulate energy and treat stiffness in aching joints.


Reflexology
60 minutes treatment (50 minutes treatment time)

A powerful and effective healing art based on century old principles that the feet are the "mirror" of the body. Working on specific points of the feet, signals are sent to benefit the body organs. A head to toe sensation of balance and health will radiate from your entire being when your feet return to earth.


Reflexology with Ginger Zinger
75 minutes session (65 minutes treatment time)

Exclusively developed for the weary traveler who has just arrived, or is just leaving and of course, the fatigued shopper. An intensive treatment commencing with a reflexology session followed by a warm spice wrap to draw out the toxins from tired legs. You will feel a slight burning sensation in your legs as the blood circulates throughout. Now you will be walking out with a renewed boost!



""Those who have health have hope, those who have hope have everything.""